SEOpie – SEO in Kent & the UK
Is your website suffering from a lack in growth?
Does the number of people visiting your site remain stagnant, month on month?
Do you find it hard to get new online customers?
Maybe potential customers can't see your site in search engine results?
Are all of these internet acronyms driving you insane?
SEO, PPC, SEM, SERP. It can all get a bit confusing when first looking into website optimisation!
Allow us to take care of it all for you.
Simple, clear website analysis reports

Coordination between yourself and one single account manager; not an agency of people

Combined creation of a strategy which you are happy with

No ongoing contractual fees. Cancel any time.

Advice on long-term internet marketing techniques

A breakdown of all changes made or additions to your site and the reasons why

No unethical link-building, content/article spinning, blog posting, or any other 'black-hat' techniques which could cause future issues with Google

Only high quality, accurate, well-researched, and engaging web content to develop your website into an authority on your particular field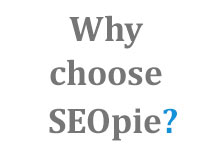 Search Optimisation Solutions for small and medium-sized businesses in Kent
SEOpie is, in a nutshell, me, Benjamin Avenell, providing small and medium-sized businesses in Kent with affordable website optimisation solutions.
Being based in the south-east of the UK means that I am able to provide businesses in the local area (including Tonbridge, Tunbridge Wells, Maidstone, and Sevenoaks) with personalised, bespoke site improvements relevant to the industry and local geography their business is situated in. By being able to physically come to visit your company and knowing the local area and local businesses, I am able to get a good understanding of your own business, and therefore develop a strategy that focuses on your specific services and products and highlights your strengths within your industry and within Kent.
Localised search engine optimisation is becoming a very important step in website development as it means that customers are better able to find information that is relevant to them, where they are. Up until this point, it was often the case where you would not even know about a company based only a few miles away from where you live, or where your business is based, simply because of a lack of localised marketing. With Google's Venice updates, however, this is slowly becoming a thing of the past, as we are now directed towards search results which are tailored to our geographical location.
By taking advantage of this evolution in internet search systems, your business becomes more visible to potential customers within your local area. And with so many people now looking to find information, products, services or entertainment on-the-go on their mobile devices, this is now a vital step in marketing your business to the world. Simply put, if you aren't taking advantage of these updates, you are losing out on potential customers every single minute.
Search engine optimisation isn't about posting articles all over the internet, commenting on hundreds of blog posts, spending thousands of pounds on "quality backlinks"; it is simply these few steps: understanding your position in terms of web presence; where you are and what needs to be done, researching and focusing on an optimal keyword targeting strategy, developing a website's code and content to maximise that keyword strategy and then developing a suitable link profile to help ensure organic growth.